Window Treatments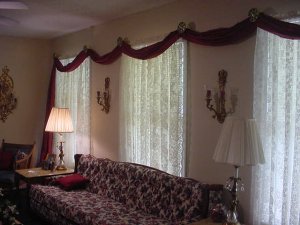 NO SEW CURTAINS
When Mom and Dad bought their new house, I knew the curtains for the living room would be a challenge. It had three windows. For starters, we put up mini blinds to provide maximum privacy and hung lace panels on each window. Then, to tie the three windows together, we draped a long piece of fabric across all three windows. The selvage was left on the fabric so we didn't have to finish the edges. We installed medallion brackets purchased at Walmart at the top of each window. We positioned the long strip of fabric evenly across the three windows draping it between the medallions. At each end of the long strip of fabric, we draped it on the floor hiding the ends of the fabric underneath. Mother hemmed the ends although it didn't have to be since the ends were hidden.
Click here to see how I used a crocheted star to cover a difficult window.
More pictures of curtains I've made.
Updated 8/8/08