Granddaddy Horace died before any of the grandchildren

were born. We never knew him, but, from all Iíve been

told, he was a mighty fine man, a good husband and he loved

children. Iíve sometimes wondered what we would have

called him. Would we have called him Grand Daddy,

PaPa, or Pa? Or, maybe we would have each called

him something different.

I always had great admiration for Grandmother. With her

being widowed at such an early age, she had to learn to do

things that most women didnít have to do. If she wanted

something done, she did it. I guess you can say, she was a

liberated woman before being liberated was stylish. She

taught me how to crochet during one of the winter snowstorms

that we use to have. I have spent many enjoyable hours using

this handcraft. I also share her interest in

quilting. Iíve quilted a few items but right now mostly all I do

is piece quilt tops.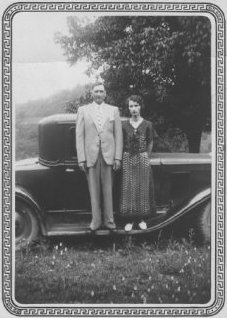 Horace
October 25, 1906 - May 9, 1950
Margie
June 24, 1906 - March 30, 1997