September 10, 2008
It is an honor to present you with
my Purrrfect Page Award.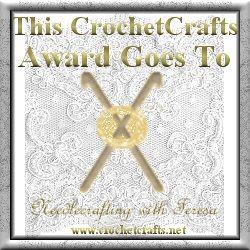 www.crochetcrafts.net/crochetcrafts.htm
July 4, 2004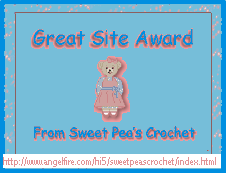 www.angelfire.com/hi5/sweetpeascrochet/index.html
June 11, 2004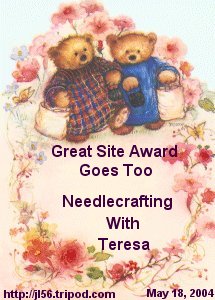 http://jl56.tripod.com/
May 18, 2004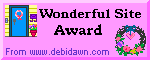 http://www.debidawn.com
February 27, 2004
I have visited your website, and found that it is a charming addition to the internet, and I am proud to offer you the Wonderful Website Award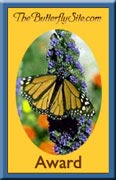 Awarded by
The Butterfly Site
April 27, 2003


Awarded by
The Golden Web Awards
September 23, 2003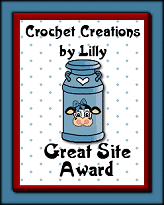 http://www.geocities.com/cowhooked
July 23, 2002
I've visited your site and I'm more than happy to give you my award.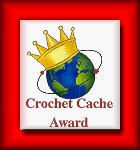 http://hometown.aol.com/dorism3560/index.htm
April 27, 2002
Nice site!! Here's the Crochet Cache Award.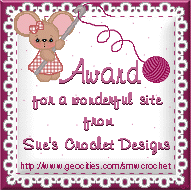 http://www.geocities.com/smwcrochet
April 14, 2002
I visited your site
and it looks terrific. You have done a great job. I am thrilled to give you my award.


http://crochetnmore.com/123applyforaward.htm
April 13, 2002
You have some very helpful information on your site and I'm happy to give you this award as I truly enjoyed my visit.
April 4, 2002
We applaud your site's ease of navigation, obvious hard work, and entertaining content. It is with great pleasure that we give you the Resource Site Award